Jeremy Stoddard
Associate Professor
(608) 263-1007
514F Teacher Education Building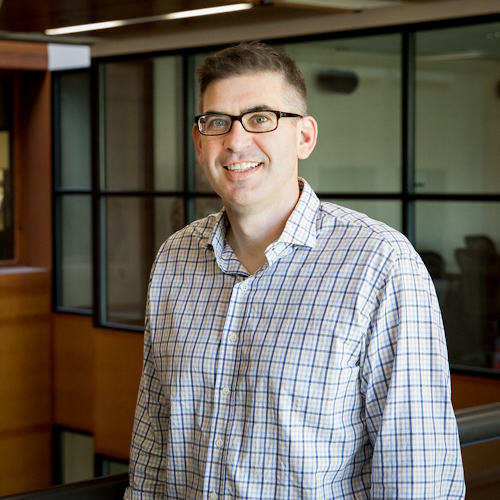 Jeremy Stoddard is Associate Professor and the Faculty Chair of the Secondary Education Program. His research examines the role of media in teaching and learning history and democratic citizenship – with a particular focus on engagement with difficult or marginalized histories and contemporary controversial issues. His work has been published in Journal of Curriculum Studies, Teachers College Record, Curriculum Inquiry, and Learning, Media and Technology. He has also co-authored or co-edited three books, including Teaching Difficult History Through Film (Routledge, 2017). He has served as Editor for Theory and Research in Social Education and has held national leadership roles in the Teaching History SIG of AERA and as a member of the Executive Board of the College and University Faculty Assembly of the National Council for the Social Studies. Prior to joining the UW faculty in 2019, Stoddard was on faculty at William & Mary, where he served as Chair of the Department of Curriculum & Instruction, founded and directed the interdisciplinary program in Educational Studies, and was an affiliated faculty of the Film and Media Studies program.
Education
Ph D Social Studies Education, University of Wisconsin – Madison, 2006
MS Educational Communications & Technologies, University of Wisconsin-Madison, 2001
BA Social Studies & Urban Education, Hamline University, 1997
Publications
Stoddard, J. (2019) Teaching 9/11 and the war on terror national survey of secondary teachers. Madison, WI: University of Wisconsin-Madison.
Stoddard, J., & Rodriguez, K. (2019) Using iterative design to improve student engagement and learning in media and democratic education in an online simulation Design research in social studies education New York: Routledge.
Saye, J., Stoddard, J., Gerwin, D., Libresco, A., & Maddox, L. (2018) Authentic pedagogy: examining intellectual challenge in social studies classrooms Journal of Curriculum Studies, 50(6), 865-884.
Stoddard, J., Swiecki, Z., & Shaffer, D. W. (2018) Behind the curtain: an epistemic design process for democratic media education simulations More like Life Itself: Simulations as Powerful and Purposeful Social Studies, 21-39. Charlotte, SC: Information Age Press.
Stoddard, J. (2018) Learning History Beyond School: Museums, Public Sites, and Informal Experiences International Handbook of History Teaching and Learning, 631-656. Wiley-Blackwell.
Mason, L., Krutka, D., & Stoddard, J. (2018) Media literacy, democracy, and the challenge of fake news Journal of Media Literacy Education, 10(2), 1-10.
Marcus, A., Metzger, S., Paxton, R., & Stoddard, J. (2018) Teaching history with film: Strategies for secondary social studies (2nd ed.) New York: Routledge.
Stoddard, J., & Chen, J. (2018) Young people's views on, and discussions of, experts and evidence in political media Learning, Media and Technology, 43(4), 418-433.
Stoddard, J., & Marcus, A. (2017) Media and social studies education The handbook of social studies research, 477-498. Boston, MA: Wiley-Blackwell.
Stoddard, J., Marcus, A., & Hicks, D. (2017) Teaching difficult history through film New York: Routledge.
Presentations
Stoddard, J., Hess, D., & Fitchett, P., Conflict & Identity: Confronting the Past Through Education Conference, "The Ongoing War on Terror in US Classroom: Teaching about (and Avoiding) Conflict in Partisan Times" (2019), Oxford, UK
Stoddard, J., Mason, L., & Krutka, D., American Educational Research Association Annual Meeting, "Media Literacy, Democracy, and the Challenge of Fake News" (2019), Toronto, ON, Canada
, ., American Educational Research Association Annual Meeting, "What does critical media literacy look like for democratic citizens in a Post-Truth Era? Part of invited Presidential Session: Skeptical and affective literacies: Redefining critical media pedagogies in a "Post-Truth Era"." (2019), Toronto, ON, Canada
Stoddard, J., Marcus, A., van Hover, S., & Hicks, D., Annual Conference of the National Council for the Social Studies, "Teaching Difficult History Through Film" (2018), Chicago, IL
Stoddard, J., Marcus, A., Schweber, S., Mills, G., & Hicks, D., Learning Social Studies in Virtual and Augmented Spaces: Theory, Methods, Approaches, "The Forever Project: Pedagogical Dilemmas of Preserving Holocaust Survivor Testimony in Virtual Interactive Form" (2018), College and University Faculty Assembly of the National Council for the Social Studies, Chicago
Stoddard, J., & Chen, J., International Conference of the Learning Sciences Conference Proceedings, "Exploring the impact of virtual internships for democratic and media education" (2018), London, UK
Stoddard, J., & Chen, J., International Conference of the Learning Sciences Conference Proceedings, "Measuring student epistemic understanding of, and beliefs about, political media" (2018), London, UK
Stoddard, J., College and University Faculty Assembly of the National Council for the Social Studies, "Using a Virtual Internship Simulation to Engage in Controversial Issues" (2017), San Francisco, CA, USA
Stoddard, J., College and University Faculty Assembly of the National Council for the Social Studies, "Using Iterative Design to Improve Student Engagement and Learning in Media and Democratic Education in an Online Simulation" (2017), San Francisco, CA, USA
Stoddard, J., Rodriguez, K., Rayner, M., Swiecki, Z., & Shaffer, D. W., Computer Supported Collaborative Learning Conference, "Epistemic game design for democratic and media education" (2017), Philadelphia, PA
Awards and Honors
W. Taylor Reveley, III Interdisciplinary Faculty Fellow, William & Mary Alumni Association, 2016
Plumeri Award for Faculty Excellence, William & Mary Alumni Association, 2016
Alumni Fellowship Award for Excellence in Teaching, William & Mary Alumni Association, 2016
Faculty Fellow, Emory & Wendy Reve's Center for International Studies, William & Mary Alumni Association, 2014
Distinguished Associate Professorship, Sallie Gertrude Smoot Spears Term, 2011
Diversity Recognition Award, Office of Diversity and Equal Opportunity, President's Office, William & Mary Alumni Association, 2011
Best Paper Award, American Educational Research Association (AERA), 2011