Margaret Hawkins
Professor
(608) 263-4667
456B Teacher Education Building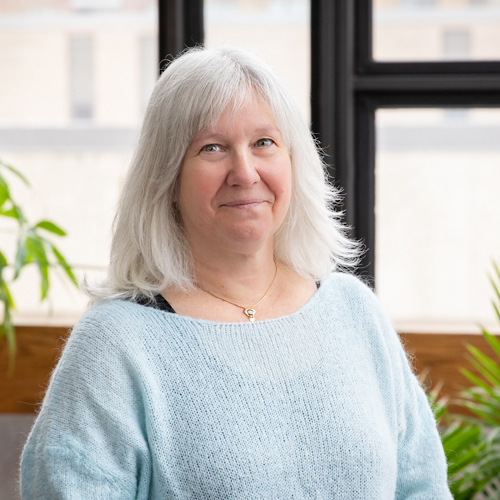 Margaret R. Hawkins focuses on language, mobility and education, exploring languages, literacies and learning in classroom, home, and community-based settings in domestic and global contexts. She works locally and internationally with schools, NGOs, communities and institutions of higher education in a variety of capacities.
Publications
(2019) Plurilingual learners and schooling: A sociocultural perspectivein Handbook of TESOL in K-12 Hoboken NJ: John Wiley & Sons.
(2018) Considering 'trans-' perspectives in language theories and practicein Applied Linguistics, 39(1), (1-8).
(2018) Transmodalities and transnational encounters: Fostering critical cosmopolitan relationsin Applied Linguistics, 39(1), (55-77).
(2017) Mobility, language & schoolingin The Routledge Handbook of Migration and Language New York NY: Routledge Press.
(2014) Ontologies of Place, Creative Meaning Making and Cosmopolitan Educationin Curriculum Inquiry, 44(1), (90 - 113).
(2013) Framing Languages and Literacies: Socially Situated Views and Perspectivesin Framing Languages and Literacies: Socially Situated Views and Perspectives Routledge Press.
(2011) Social Justice Language Teacher Education Clevedon: Multilingual Matters.
(2009) Critical Language Teacher Educationin Cambridge Guide to Second Language Teacher Education Cambridge: Cambridge University Press.
(2005) Becoming a student: Identity work and academic literacies in early schoolingin TESOL Quarterly, 39(1), (59-80).
(2004) Researching English language and literacy development in schoolsin Educational Researcher, 33(3), (14-25).
Presentations
, "Transmodalities: Global Youth Negotiating Place, Identity and Positioning in Translocal and Transnational Communications" (2019), Atlanta, GA
, "Exploring Multimodalities: Language, Semiotics and New Media Engagements" (2018), Chicago, IL
, "Transmodalities: Conceptualizing Semiotic Affordances in Transnational Communications" (2018), London and Birmingham UK, Barcelona Spain
Awards and Honors
Erwin Zolt Digital Literacy Game Changer Award, International Literacy Award (ILA), 2018
Leadership Through Research Award, Second Language Research Special Interest Group (SIG), American Educational Research Association (AERA), 2018
Honored Instructor, University of Wisconsin Housing, 2018
Global Citizen of the Year Award, United Nations Association, Dane County Chapter, 2018